Alas de mariposa rotas
Broken Butterfly Wings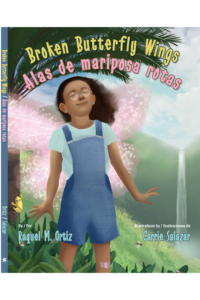 Gabriela is super excited when her gift from Titi Sylvia finally arrives. She loves the colorful, glittery butterfly wings! But, she flaps and flaps and nothing happens. Disappointed, Gabriela goes to the garage, digs into her father's toolbox, set on fixing the broken butterfly wings. Maybe she can add a battery or an engine. Her father has a better idea, though, and encourages her to close her eyes and think about where she would like to fly. Soon Gabriela is envisioning El Yunque, a rainforest on the island of Puerto Rico.

Broken Butterfly Wing is inspired by trips I've taken with my daughter and son to the tropical rainforest El Yunque in northeastern Puerto Rico. Because of Hurricane María, El Yunque was closed for some time to recover from the massive damage caused by the hurricane. To find out about hurricane recovery efforts please go to:
https://www.fs.usda.gov/detail/elyunque/home/?cid=FSEPRD747358
PURCHASE
You can purchase Broken Butterfly Wings from Arte Publico Press, Amazon or Barnes and Noble.
BOOK TRAILER
Broken Butterfly WIngs, Alas de mariposa rotas
https://youtu.be/YoKiROZWYCE
MEDIA
It's About You WKYC Channel 3, Raquel M. Ortiz – Broken Butterfly Wings, Alas de mariposa rotas, 10/7/21
https://www.wkyc.com/video/entertainment/television/its-about-you/raquel-m-ortiz-broken-butterfly-wingsalas-de-mariposa-rotas/95-bc0490e1-3d44-4d5c-ab5b-739c65a1e228
Download the FREE Education Guide and Coloring Pages by clicking on the images below:
Teacher's Guide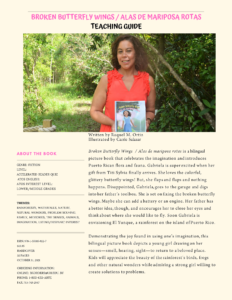 Coloring Sheets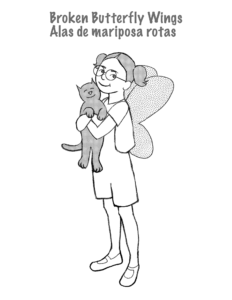 INFORMATION ABOUT EL YUNQUE NATIONAL FOREST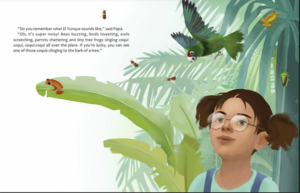 El Yunque National Forest, formerly known as the Caribbean National Forest, is a tropical rainforest. El Yunque is located in northeastern Puerto Rico in the Sierra de Luquillo. It receives more than 200 inches of rain per year and covers 28,000 acres of land. This national park is what remains of the original tropical forest that covered almost all of the island of Puerto Rico when the Spanish arrived more than 500 years ago. 
 It's believed that the name El Yunque comes from the Taíno word yunqué, which means "white lands." For the Taínos, the indigenous people of Puerto Rico, the mountain Yunqué was sacred, the place where their gods lived. To this day on La Roca (The Rock), on the south side of the rainforest, you can see Taíno petroglyphs. 
The rainforest has the famous waterfalls La Coca Falls, La Mina Falls, and Juan Diego Falls. It is also home to hundreds of animal and plant species, some of which can only be found in El Yunque. There are many different types of birds, bats, lizards and coquís or tree frogs living in El Yunque. And, while it's rare to find snakes, the Puerto Rican Boa lives here. El Yunque is also home to the nearly extinct Puerto Rican Parrot that is the only remaining native parrot in Puerto Rico. 
OTHER BOOKS RELATED TO HURRICANE MARIA:
Por Ahí Viene El Huracán by Laura Rexach Olivencia, Mya Pagan, Editorial Destellos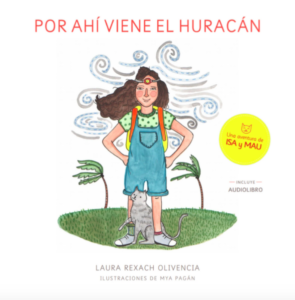 La Cucarachita Martina y el terrible huracán (Colección La mancha de plátano) by Tere Marichal-Lugo, Colección La mancha de plátano, 2019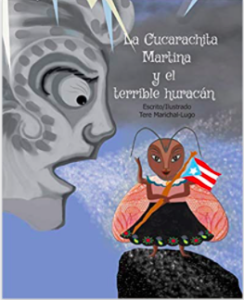 Thiago y la Aventura del Huracán, Yolanda Arroyo-Pizarro, Editorial EDP University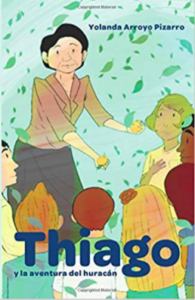 Mi isla bella / Mi isla hermosa, Isset Pastrana-Andino, Aparicio Distributors, Inc.