Cuando Julia Bailaba Bomba
When Julia Danced Bomba
Julia does not want to go to dance class. Her turns are too slow, her steps too big. She just can't do anything right! When Julia finds out she'll be participating in a bombazo and performing a solo she is terrified. But Julia takes a deep breath, closes her eyes and focuses on the beat of the drum. As she dances Julia notices that the drums are actually talking to her. Julia stops worrying and instead loses herself in the rhythm of the bomba drums!
PURCHASE
You can purchase When Julia Danced Bomba from Arte Publico Press, Amazon or Barnes and Noble.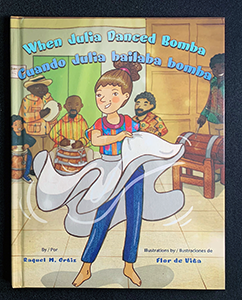 PRAISE
A Junior Library Guild Selection
"Afro-Puerto Rican dance traditions are celebrated through one girl's breakthrough moment with bomba. A solid reminder of music's power and a good primer on Puerto Rican dance culture."—Kirkus Reviews
"The theme of dance as a liberating force for self-expression is enhanced by the cultural context in this picture book. Ortiz's straightforward text taps into several relatable and authentic themes, including the pressure children can feel to embody all aspects of their cultural backgrounds, and dispelling the notion that all Latinxs are naturally rhythmically gifted. A wonderful pairing for titles depicting the intersectionality of Latinx heritage, like Margarita Engle's Drum Dream Girl and Eric Velasquez's Looking for Bongo." —Booklist
"The illustrations provide readers with a clear view of Julia's emotions as she confronts her fears and anxiety about dancing. The author includes general information about the bomba as well as a glossary of Spanish words in this bilingual edition. VERDICT An additional purchase for patrons who are interested in learning about bomba, a Puerto Rican dance."—School Library Journal
BOOK TRAILER
When Julia Danced Bomba, Cuando Julia Bailaba Bomba
AUTHOR READING
When Julia Danced Bomba / Cuando Julia bailaba bomba
MEDIA
Raquel Ortiz libro para niños hispanos | Voces HITN
Feb 18, 2020
NPR Arte Público Press Author Interview: Dr. Raquel M. Ortiz, February 2020
CLICK ON THE IMAGE BELOW TO LISTEN TO AN INTERVIEW WITH RAQUEL M. ORTIZ ABOUT HER TWO RECENT BILINGUAL PICTURE BOOKS, SOFI PAINTS HER DREAMS AND WHEN JULIA DANCED BOMBA.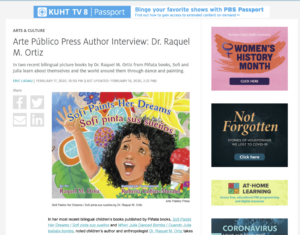 INTERACTIVE READING OF WHEN JULIA DANCED BOMBA
December 2019 Center for Puerto Rican Studies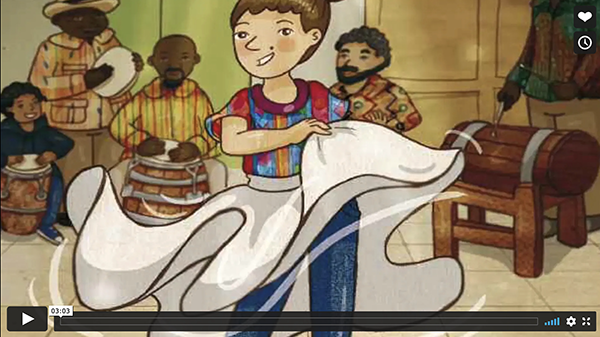 An interactive reading of When Julia Danced Bomba that highlights bomba music by teaching artist Doctor Drum and dancing second graders from BronxWork After School Program.
DOWNLOAD THE FREE STICK PUPPET COLORING SHEETS BY CLICKING ON THE IMAGE!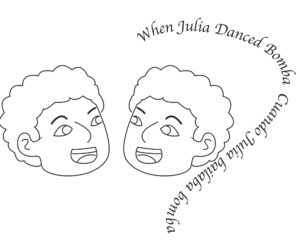 Download the FREE Educational Guides by clicking on the images below:
ENGLISH Teacher's Guide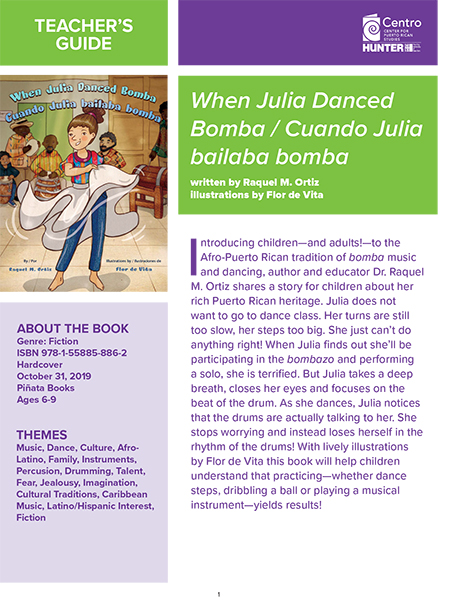 Caregiver Guide (English)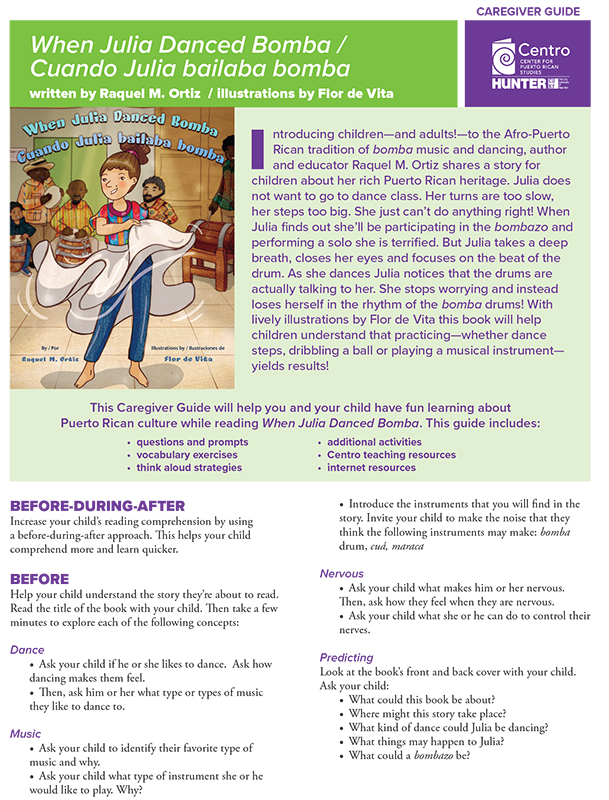 Caregiver Guide (Spanish)